Fairways and Fashion: The Evolution and Resilience of Golf Attire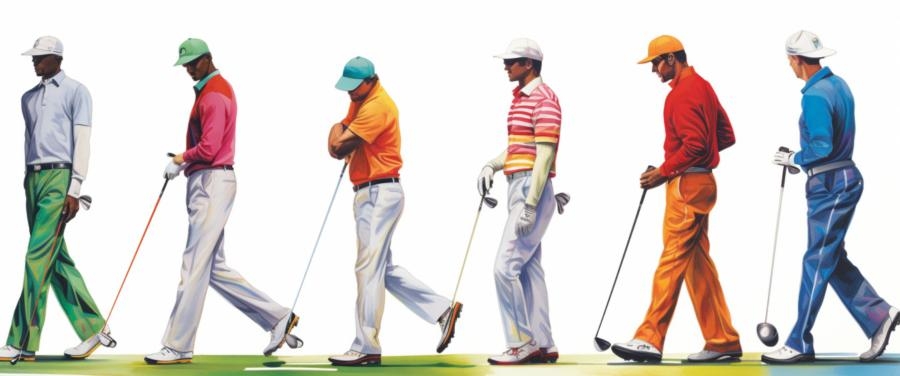 Golf attire, a unique blend of tradition and trend, has navigated the fairways of fashion with a distinctive flair." This statement encapsulates the fascinating relationship between golf clothing and the broader world of fashion. Golf attire has not only been influenced by prevailing fashion trends but has also steadfastly maintained certain traditional elements, creating a unique sartorial niche in the sports world.
The Early Days: A Nod to Tradition
In the early days of golf, attire was more about social status and less about practicality. Golfers wore what was fashionable in society: tweed suits, heavy flannel trousers, and formal shirts. This choice of clothing reflected the game's origins among the elite and its status as a leisure activity rather than a sport. The iconic plus-fours, knee-length trousers that allowed more freedom of movement, emerged during this era and have since become synonymous with vintage golf fashion.
Swinging into the 20th Century: Fashion Meets Function
As golf evolved into a more athletic endeavor, practicality began to influence golf fashion. The mid-20th century saw a shift towards lighter, more comfortable fabrics like cotton and polyester. Polo shirts, introduced by Rene Lacoste, a tennis player, became a staple in golfers' wardrobes due to their comfort and ease of movement. This period marked the beginning of golf attire being influenced by broader fashion trends while maintaining its distinctive style.
The Bold and the Beautiful: Golf Embraces Fashion Trends
The late 20th and early 21st centuries witnessed golf attire fully embracing contemporary fashion trends. Bright colors, bold patterns, and modern materials became commonplace on the golf course. Brands like Nike and Adidas began to heavily influence golf fashion, introducing athletic materials that offered better moisture management and temperature control. Golfers like Payne Stewart and Tiger Woods became fashion icons, known for their distinctive sartorial choices that blended traditional golf attire with modern fashion elements.
The Timeless Elements: Resisting the Winds of Change
Despite these changes, certain elements of golf attire have remained remarkably consistent. The collared polo shirt, for instance, has been a staple for decades, evolving in fabric and fit but maintaining its essential style. Similarly, the golf cap, though varying in design, has remained a key accessory, offering both functionality and a nod to tradition. These elements have become deeply ingrained in the golfing culture, resistant to the ebb and flow of fashion trends.
Functionality at the Forefront: Practicality Guides Fashion
Practicality continues to play a significant role in shaping golf fashion. Golf shoes have evolved from metal spikes to soft spikes and more recently to spikeless designs, reflecting advancements in technology and a focus on course maintenance. Similarly, the advent of waterproof and windproof materials has revolutionized outerwear in golf, allowing players to face the elements without compromising on style or performance.
Women's Golf Attire: Breaking Barriers and Setting Trends
Women's golf attire has seen a significant transformation, mirroring broader societal changes. From the restrictive skirts and blouses of the early 20th century to the modern, athletic wear of today, women's golf fashion has become a space for both style innovation and a reflection of the changing role of women in sports and society.
The Future of Golf Fashion: Blending Old and New
As we look to the future, golf fashion seems poised to continue its unique dance between tradition and trend. Sustainable materials and eco-friendly practices are beginning to influence golf attire, reflecting a growing awareness of environmental issues. At the same time, the resurgence of vintage styles, like the plus-fours and argyle patterns, suggests a nostalgic yearning for the game's roots.
Conclusion: The Unique Fairway of Golf Fashion
In conclusion, golf attire stands at a unique intersection of tradition and modernity. It has absorbed and reflected broader fashion trends while maintaining elements that speak to the game's heritage. This blend of old and new, of fashion and function, makes golf attire not just a matter of practicality but also a statement of style and history. As golf continues to evolve, its attire will undoubtedly continue to be a fascinating reflection of both the game and the times.