Paisley's Journey: From Persian Shawls to 1960s Bohemia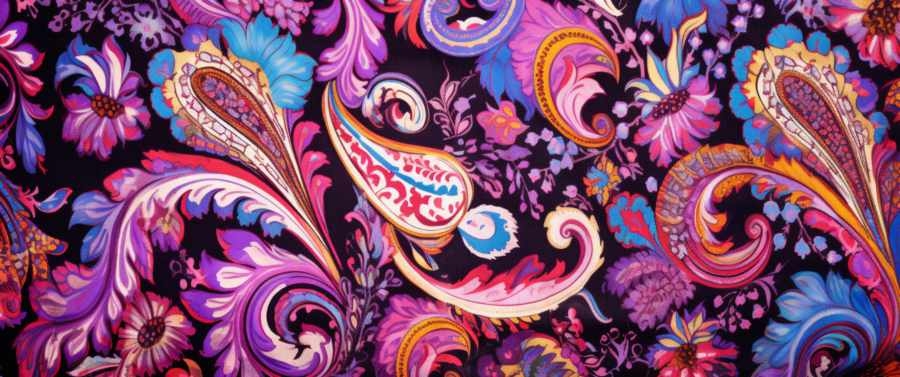 Exotic Beginnings: Persian Paisley
Way back in the 16th century, the Persian empire was a tapestry of colors and patterns, with its most iconic being the paisley. Derived from the Persian word "boteh," which translates to "flower bud," the paisley symbolized life, fertility, and eternity. Much like a fine Persian rug, paisley began to weave its way into the fabric of society. From shawls to ceramics, paisley decorated the household items, clothing, and accessories of the Persian elite. The pattern flourished across the vast empire, from Persia to India, where the fine shawls became a symbol of royalty, draped over the shoulders of maharajas and kings.
Flower-Power Frenzy: Paisley Invades Europe
As traders traversed the Silk Road, they brought with them the swirling patterns of paisley, igniting a frenzy in Europe. Scottish weavers in the town of Paisley, near Glasgow, were captivated by the exotic design and began to replicate it on their own looms. By the early 1800s, Paisley shawls were the height of fashion, adorning the shoulders of European royalty and high society. However, the paisley craze didn't end there. The pattern was soon adopted by the growing middle class, who delighted in the sumptuous patterns and affordable textiles. As paisley weaved its way into the homes and hearts of everyday people, it shed its exotic origins and became an emblem of Victorian femininity and domesticity.
Swinging Sixties: Paisley's Psychedelic Resurgence
Fast forward to the 1960s, and paisley was rocking a whole new groove. As Western culture rediscovered its love for Eastern mysticism and spirituality, paisley once again took center stage. This time, however, it had shed its demure Victorian roots for an explosion of psychedelic colors and bold patterns. Musicians such as Jimi Hendrix, The Beatles, and The Rolling Stones embraced the paisley pattern, donning flamboyant shirts, jackets, and neckties as they strutted their stuff on stage. Suddenly, paisley wasn't just a pattern; it was a symbol of counterculture, of free love, and of a generation shedding the shackles of tradition and embracing the creative and the new.
Tips for Wearing Paisley Today
Now that you know the fascinating history of paisley, you may be wondering how you can incorporate this timeless pattern into your wardrobe. Here are a few tips:
Be bold: Paisley is a bold, eye-catching pattern, so don't be afraid to let it take center stage. Consider a vibrant paisley shirt or dress, and balance it out with neutral accessories.
Accessorize: If you're not quite ready to go full-hippie, add a touch of paisley to your outfit with a scarf, tie, or even a pair of socks.
Mix and match: Paisley pairs beautifully with other patterns, such as stripes or florals. Just be sure to keep the color palette cohesive to avoid overwhelming the eye.
Embrace your inner bohemian: Channel your inner 1960s rock star by adding some boho chic elements to your paisley ensemble. Think fringed handbags, chunky jewelry, and oversized sunglasses.
Paisley's Enduring Legacy
From its humble origins as a Persian flower bud to its starring role in the counterculture movement, paisley has proven itself to be a versatile and enduring pattern. Its rich history and evocative symbolism make it a beloved favorite for fashionistas and trendsetters alike. Whether you choose to drape yourself in a vintage paisley shawl or rock a modern paisley shirt, one thing's for sure: you'll be in good company. So go forth, dear fashion adventurers, and embrace the swirling, whirling, colorful world of paisley.